Implications on Comhairle na Gaelscolaíochta offices due to Covid-19
In accordance with Government advice re Covid-19, Comhairle na Gaelscolaíochta remains open for business, but we have reorganised some of our services in order to safeguard the health and safety of the public and staff.
The office will be closed to the public and staff will be working remotely for the foreseeable future. Our web site provides details of individual members of staff who can be contacted by email or on their direct lines (via voicemail which operates after a number of seconds).
DE and EA Correspondence
A chairde, please see below correspondence from DE and EA. This page will be updated regularly.
8th March 2020;
DE – Northern Ireland Re-opening School Guidance – New School Day – Pre-School Education Supplementary Guidance
5th March 2020;
DE – Open Letter to Parents from the Education Minister on school restarts 
23th February 2020;
DE – Circular 2021/03 – Curriculum Planning – March 2021 – Return for Years 1 to 3 to face-to-face learning
9th February 2020;
DE – Effective Practice in Remote Learning
2nd February 2020;
DE – Statement on alternative awarding arrangements from 2021
DE – Factsheet for parents and students – alternative awarding arrangements 2021
DE – Five step process – alternative awarding arrangements 2021
DE – Frequently Asked Questions – Alternative awarding arrangements – summer 2021
28th January 2020;
DE – Remote learning to continue until March
13th January 2020;
DE – Statement from Education Minister on AQE Test
8th January 2020;
EA – Guidance for Schools 10th January – February Mid-term
6th January 2020;
DE – Guidance Update Letter – January 2021
DE – Statement from the Education Minister to the Ad Hoc Committee regarding education provision
5th January 2020;
DE – Minister sets out plans for education provision 
15th December 2020;
DE – Minister outlines plans for exams and assessments in 2021
19th November 2020;
DE – School holiday food grants to be extended until Easter 2021
17th November 2020;
DE – Education Restart Wellbeing Funding Launched 
3rd November 2020;
DE – Update on Physical Education in Schools 
2nd November 2020;
DE – Parents can play critical role in keeping schools safe 
29th October 2020;
DE – Minister for Education welcomes additional funding for schools
29th October 2020;
DE – Face coverings to be mandatory on all school transport for post primary children
14th October 2020;
DE – Statement from Education Minister Peter Weir on Covid-19 Restrictions
14th September 2020;
DE- COVID19 Home Test Kits – National Testing Initiative
25th August 2020;
DE – Education Minister updates guidance on face coverings
24th August 2020;
DE – Education Minister allocates £42m funding for Education Restart
13th August 2020;
DE – Education Minister publishes new school day guidance
22nd July 2020;
DE – Education Minister announces measures to support childcare providers
10th July 2020;
DE – Update on additional support measures for children this summer
8th July 2020;
DE – Free Wi-Fi scheme for disadvantaged pupils
24th June 2020;
DE- Childcare recovery plan and Education Restart FAQs available online
23rd June 2020;
DE – Education Minister publishes guidance for schools on curriculum planning
22nd June 2020;
EA Guidance on Blended Learning for Post-Primary
EA Guidance on Blended Learning for Primary
19th June 2020;
DE – Education Minister publishes guidance on new school day
18th June 2020;
DE – Education Minister outlines proposals to support vulnerable children and young people this summer
DE – Education Minister announces publication of childcare recovery plan
16th June 2020;
DE – Statement on Free School Meals
5th June 2020;
DE – guidance for schools on remote learning
4th June 2020;
DE – Guidance to support safe working in educational settings
DE – Ministers announce extension of definition of key workers to access childcare 
ETI – Update for schools regarding inspection during recovery periods
3rd June 2020;
DE – Guidance on School Development Planning for 2020/21
22nd May 2020;
DE-Criteria For The Lending Of Digital Devices To Pupils During Covid 19
DE- Provision of digital devices to disadvantaged children
21st May 2020;
DE – Ministerial Statement by Peter Weir 
20th May 2020;
DE – Temporary changes to pupil assessments and reporting requirements
19th May 2020;
DE – Income Support Scheme for substitute teachers
11th May 2020;
DE – Education Minister welcomes decision on post-primary transfer test dates
10th May 2020;
EA – Supporting Learning Webpage
30th April 2020;
DE – FAQs for schools opening for key workers
29th April 2020;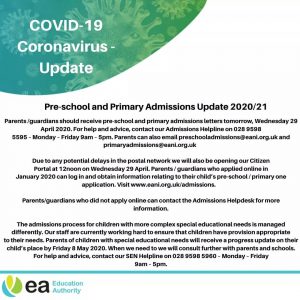 28th April 2020;
DE – Education Minister announces arrangements for Occupational Studies and CCEA Entry Level Qualifications
24th April 2020;
DE – Coronavirus (COVID-19) implementing social distancing in education settings in NI – update as at 21 April 2020
DE – FAQS FOR PARENTS IN RELATION TO COVID-19 RESPONSE
DE – FAQs UPDATE for Educational Settings 21 APRIL 2020
22nd April 2020;
EA – COVID-19 Questions and Answers
21st April 2020;
Coronavirus (COVID-19) implementing social distancing in education settings in NI – update as at 21 April 2020
FAQS FOR PARENTS IN RELATION TO COVID-19 RESPONSE
FAQs UPDATE for Educational Settings 21 APRIL 2020
16th April 2020;
DE – Minister announces arrangements for summer examinations
10th April 2020;
DE – Guidance on Vulnerable Children and Young People
8th April 2020;
DE – Latest DE updates regarding Covid-19
DE – Letter from Minister Weir re: Vulnerable children and Young People
6th April 2020;
EA – Letter from EA CEO to Schools re: Children with SEN
DE – Letter from Minister for Education re: Volunteering within the education sector
31st March 2020;
EA – Key Workers School Placement Request Form
30th March 2020;
DE – Guidance on Covid-19 Cluster Arrangements
24th March 2020;
DE – FAQs for schools opening for children of key workers
EA – Letter from EA CEO to Schools
23rd March 2020;
EA – Guidance and Index of Generic Risk Assessment
EA – Covid-19 Generic Risk Assessment
21th March 2020
DE – Letter from Minister of Education Re: Cluster Schools and Key workers
20th March 2020;
DE – Letter from Minister of Education announcing school closures
19th March 2020;
16th March 2020;
DE – Guidance to Educational Settings